Fuller's to open the White Horse at Wembley Park on 2 October
Monday 21 September 2020
Influenced by Wembley Park's legendary past as a host to some of the world's greatest music and sporting events, and the area's strong cultural heritage, the new pub's name, 'The White Horse', aptly derives from the first ever FA Cup Final match to be played in the stadium. The higher than anticipated turnout to the 1923 match meant vast crowds surged onto the pitch. Mounted policemen, including one on a light-coloured horse, which became the defining image of the day, had to be brought in to clear the crowds and allow the final to take place. The match is often referred to as the "White Horse Final" and is commemorated by the White Horse Bridge, a footbridge designed by London Eye architects Marks Barfield which leads to Wembley Stadium from the railway station of the same name.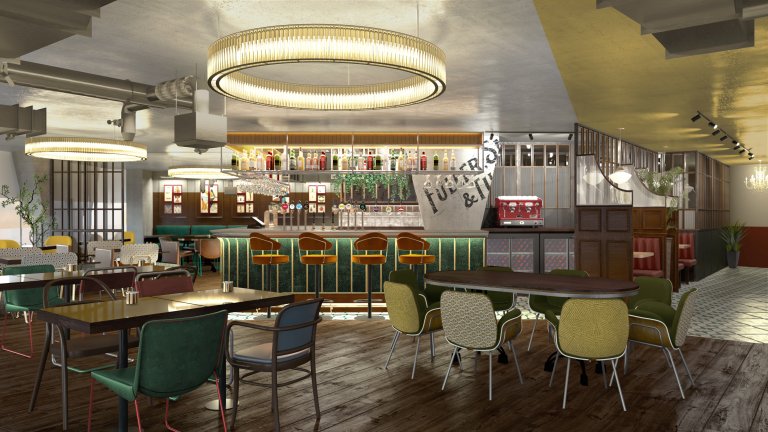 Situated in the heart of Wembley Park, on Arena Square, and set over two levels, The White Horse is both contemporary and homely in its design. Its elegant interior, with lounge furniture, a central square-shaped bar and an abundance of planting, is set against a colour palette of rich blues, greens and ochres. The new pub will feature ample outdoor space for al fresco drinking and dining, with a quaint external garden at ground level, and an outside terrace that overlooks The SSE Arena, Wembley on the upper floor. The new space caters to all tastes, from the traditional pub-goer to the millennial remote worker, making it an attractive destination for local residents, as well as nearby workers and visitors from further afield.
The new pub will offer the community a new and practical space for remote working with its open plan layout. The venue's upper level has two private rooms and one quiet area, complete with charging points, free Wi-Fi and screens. Tables and specific areas can be pre-booked by individuals or organisations. In addition, a plethora of plugs and USB points at every table throughout the pub make it an ideal space for local workers to enjoy a change of scenery.
The White Horse will offer all-day dining which will include delicious, fresh-cooked food and a range of Chef's signature dishes from Head Chef, Tars Voznesenskis. The pub will also have a varied and interesting portfolio of beers, wines and spirits as well as range of low and no-alcohol options.
Fuller's has undertaken an individual risk assessment and implemented a wide range of health and safety measures to ensure the safety and well-being of customers and team members alike. The Fuller's team will be pulling out all the stops to ensure that anyone visiting The White Horse can get the best Fuller's experience, even under the restrictions due to the coronavirus pandemic. On arrival, guests will need to scan a QR code to and register their details to support the NHS Test & Trace initiative. Contactless hand sanitising stations will be available throughout the venue and seating arrangements will allow for one metre plus social distancing, while separate entrances and exits, with a clearly marked one-way system will allow for smooth access in and around the space. In addition, every member of staff will undertake comprehensive health and safety training before the pub opens, enabling them to do what they do best – look after guests, maintain customer safety and create a memorable experience.
Sinead Murphy, General Manager at The White Horse, said: "Wembley Park is becoming a landmark destination for culture and community, so it was only natural for us to reflect that with the opening of this brand-new pub, which celebrates Wembley's legendary past. The White Horse will be a neighbourhood pub for Wembley Park's residents and the wider Brent community who may be seeking an early breakfast before work, a swift pint on the way home, or change of scene to work remotely from.
"We look forward to welcoming event day visitors who will once again visit Wembley Park for its world-class culture and entertainment when it is safe to do so, and we are incredibly excited to be open at Wembley Park for the much-anticipated UEFA Euro 2021 next summer. We intend to be the go-to venue for people to eat, drink and revel in the atmosphere."
A traditional public house, The White House, will add another dimension to Wembley Park's day-to-night experiences, which includes a number of family and independent restaurants and bars, including BOXPARK Wembley.
The White Horse will open its doors at 10am on 2nd October 2020 and will be open throughout the week from Monday to Saturday 10am-11pm and Sunday 10am-10.30pm. From an official press release